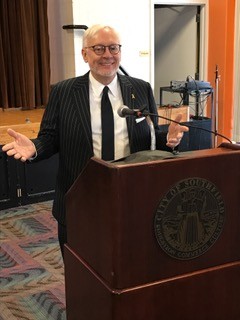 Dr. Zender is a thought leader in the area of the pandemic of car crash trauma and its impact on people's lives. Through over 30 years of treating victims of car crashes and other traumas, Dr. Zender has developed powerful strategies and tools to empower auto accident survivors in their recovery and help insurance companies understand the most effective ways to treat trauma.
Recent Event Speaking Engagements Include:
Psychophysiological Dimensions of Pain: The Mind Body Connection, Center for Adult and Continuing Studies,  Grand Valley State University, MI
Part 1: PTSD and Car Accident Victims, in the Auto Accident Trauma Seminar Series, The Recovery Project. Livonia, MI.
Presenter at the Brain Injury Association of Michigan 38th Annual Fall Conference. "Understanding Chronic Pain: The Mind-Body Connection". Lansing, MI.
Dr. Zender speaks to a variety of audiences at professional conferences, in-house business trainings, and national and international relief efforts.  He has trained various groups of leaders to be proactive in responding to the psychological needs of their teams, particularly in the wake of major traumatic events.
Audiences include human resources departments, all levels of managers, insurance industry professionals, members of professional organizations, other trauma experts, federal and local law enforcement professionals, traumatized communities, international refugees and political asylum seekers.
Dr. Zender has been brought in to evaluate, consult and train following some of the world's major traumatic events. While much of his community and disaster work is confidential, the list includes:
Terrorist acts, such as bombings
Industrial plant and community explosions
Law enforcement critical events
Airline crashes
Civil war and mass refugee scenarios
Political asylum processes from more than a dozen countries in South America, Africa, Asia and Central America
Dr. Zender is also available for online interviews and guest podcasting. Please see his Press/Media page for recent interviews.
Business Topics Include
CRASH: The Pandemic of Auto Accidents and its Impact on People's Lives
When Trauma Strikes: How to Help Your Team Respond to Major Trauma and Function Optimally (for companies, communities and organizations)
The Surprising Truth About Auto Accident Benefits: How Therapy Saves Insurance Companies Big Money in the Long Run and How to Know Which Therapies Work Best
From Survivor to "Thrivor": How to Recover from an Auto Accident and Love Your Life Again
Changing the Way We Drive: How to Prevent Auto Accidents Through Education
Doing Well by Doing Good: How Humanizing the Relationship Between Insurer and Insured Affects the Bottom Line
Dr. Zender also customizes his trainings and presentations to meet the specific needs of your organization or community.
Organizations & Venues
Many of the organizations that have brought Dr. Zender in to train or speak have requested confidentiality. These include a variety of  Fortune 500 companies, as well as local and federal government agencies. Dr. Zender has presented at The World Psychiatric Association, The International Society for Traumatic Stress Studies, The National Organization for Victim Assistance, The American Psychological Association and others.
For Insurance Companies ProActive Trauma Coverage: The Secret to Growing Market Share
Dr. Zender's new program for insurance companies, ProActive Trauma Coverage: The Secret to Growing Market Share, helps insurance companies save money, improve customer care and attract more customers. When claimants get the care they need they recover much quicker and become satisfied customers and word-of-mouth promoters. When they don't receive the care they need up front, their long term needs often escalate, causing significantly higher costs to the insurance company in the long run, in addition to the unnecessary suffering of their clients. Pro-active coverage also enhances the reputation of a company and earns them major moral currency, providing a substantial edge in the insurance marketplace.
In this program, Dr. Zender trains leaders and claims adjusters on the impact of insufficient coverage on the claimant and the insurance company's long term costs. Participants will also learn the real impact of trauma and the most cost effective ways to treat it.  They will learn which therapies and treatments are ineffective or less cost effective so they can evaluate cases more judiciously.
Call 586-465-6148 or email eliza@drjameszender.com to book Dr. Zender to speak at your event or to develop a customized training for your organization or community.